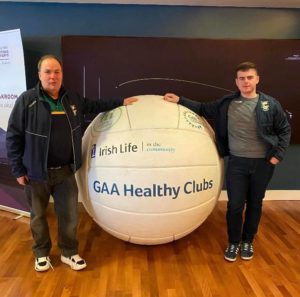 The Healthy Club Initiative began in 2018 with the appointment of Healthy Club Officer onto the Executive Committee.
The Officer established a Health and Wellbeing Committee which presently has 8 members (and are always welcoming new members).
An Riocht is one of 160 GAA clubs throughout Ireland who are participating in the GAA's Healthy Club project. This project aims to help GAA clubs explore how they support the holistic health of their members and the communities they serve. GAA clubs already contribute to the health and wellbeing of their members by providing opportunities to develop their physical, social, emotional, and psychological health.
The project aims to help GAA clubs identify what they are already doing well, identify areas where they can or would like to improve, and empower them to ensure that everyone who engages with their club benefits from the experience in a health-enhancing way, be they players, officers, coaches, parents, supporters, or members of their local community.
The healthy club model, which is based on best national and international practice, also aims to embed a healthy philosophy in a club while integrating health into the day-to-day club activities in a sustainable way. It also aims to place the local GAA club at the heart of the community, making it a beacon for health in the locale.
Over the last 3 years there have been numerous training interventions provided for committee members through GAA seminars as well as numerous webinars in conjunction with Croke Park. The committee has also been very busy implementing small changes within the club to promote the Health and Wellbeing of our members.
One of our biggest highlights to date is that we are now a Non-Smoking Club, a decision endorsed at the Executive. This means that smoking is not permitted anywhere on club property.
Another issue which we tackled was to remove all fizzy drinks, crisps and sugary sweets from our vending machines replacing them with bottled water and health bars which are low in sugar.
Within our own GAA community, many have been affected with Cancer and the Health and Wellbeing Committee felt that this was an area we would like to provide help and resources to our Club Family.
We invited the Action Cancer Bus to visit our club. We had a fantastic response with over 100 people from all sections of our local community using it's services. With this success we then invited 'The Healthy Farm Initiative' to visit the club. This service provided club members and the local community with the opportunity to get an overall health check including cholesterol and blood pressure checks. This was another great success with 130 people visiting and due to the volume of requests from members we will continue to repeat these activities.
As we have numerous playing members who are affected by Type 1 Diabetes, we felt the need to provide managers, mentors and players with Diabetes Awareness Training. This was well attended and taught us how to treat someone who suffers from Diabetes should they display symptoms of Hypoglycaemia or Hyperglycaemia, and what resources every trainer should have in their bag.
As we aim to provide greater awareness of Mental Health within the GAA Community, we regularly provided a Suicide Awareness night for the community. Following on from this we are working alongside a local charity within the Newry and Mourne area called Suicide Down to Zero. We are presently developing a Community Wellbeing Hub within club grounds allowing anyone in the community who wishes to avail of this service to talk confidentiality with trained professionals.
We purchased two Defibrillators for the club, which are stationed outside the Secretary's Office and outside the Medical Room. The Defibrillators are registered with the NI Ambulance Service and are on call 12 hours a day. We have 5 club members who are trained in using the Debfibrillators.
Looking to the future we have three main aims which we would like to achieve. They are:
• Gambling Awareness;
• Drug and Alcohol Awareness;
• 'One Punch can Kill' Project
As we strive towards the future, we aim to continue as a Healthy Club and provide as much support and awareness to the greater public as well as our own members within the club.
For more information and resources on Healthy Clubs click here.
Download > Healthy Choices Wall Planner
Download > Healthy Hamper Workbook for Kids
Download > Health and Wellness Booklet for Kids
Download > Take 5 for Your Emotional Wellbeing