🟩🟨An Riocht's Biggest Club Fundraiser⬛️🟥
Clubs Draw, facilitated by Down GAA, began in 2012 and has been a significant success for the Clubs of Down and the County.
In the ten years of the draw, a total of over £7.02 million has been raised, with over £4.68 million going to the Clubs of Down, with the County Board raising £1.18 million.
A total of £1.1 million has been paid out in prizes. With an Annual Prize Fund of £110,000, the draw allows Down GAA Clubs to host significant fundraising draw without the individual worry of providing a considerable prize fund and with the uncertainty of organising fundraisers during the previous year and beyond, which has been out of our control.
👉 So what's included in your £120 ticket?
🎉 TOTAL PRIZE FUND: £110,000
👉12 MONTHLY DRAWS:
The first Draw takes place on 25th April 2022 and continues every month on the 25th until March 2023.
With 5 Prizes of £1,000 to be won per month.
👉2 SUPER DRAWS;
(25th September 2022 & 25th March 2023)
1 Prize of £5,000, 5 prizes of £2,000, and 5 prizes of £1,000
👉SPECIAL CLUB DRAW;
Every Club guaranteed a £200 winner in our Special Club Draw
👉SPECIAL DRAW FOR FULLY PAID UP MEMBERS;
Special Draw for Patrons who pay £120.00 in full before draw commences:
5 Prizes of £200.00
🤷‍♂️ So what are my options?
1️⃣ £120 in full or
2️⃣ Paying by Direct Debit £10.00 per month via An Riocht, commencing on 18th April; and monthly after that on the 3rd of each month.
For Every Ticket sold by An Riocht, we receive £96.00 (after the initial 24 ticket sales).
Anyone interested in purchasing a ticket, please click on the link;
👉http://www.downgaa.net/clubsdraw-anriocht
(Printed tickets will be available in the coming days)
This is a valuable fundraiser for the club, and your participation is greatly appreciated for the club's running.
For more information, please get in touch with our Down Draw Coordinator (known as wonder woman) Anne Mc Ardle or any Executive Committee member!
Thank you in advance for your continued support!
🟡🟢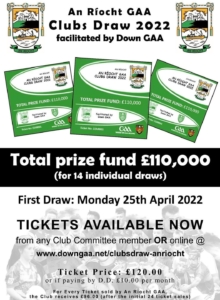 By chrismorgan
Sat 22nd Jan