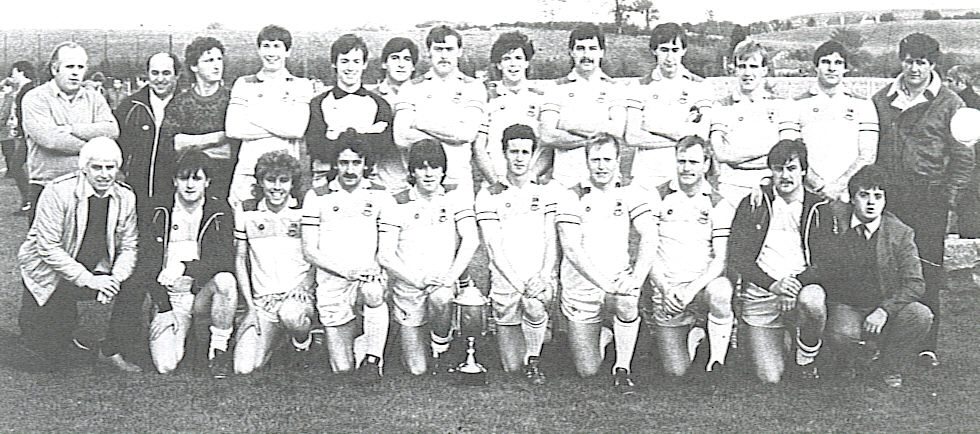 An Riocht GAC (The Kingdom) was formed in 1982 as a result of the successful merger of the Greencastle and St Colmans, Kilkeel Clubs. 
In those early days following merger teams used the existing playing facilities of the legacy clubs at Dunaman in Kilkeel, behind the oratory, and on the Pier Road, Greencastle 
Over the past 38 years the various committees overseeing the running and development of the Club have strived to develop first class facilities at 10 Dunavil Road (our home) with a period of significant infrastructure development as detailed below; 
New land was purchased at Dunavil in 1982;

New playing field developed in 1984; 

Building of changing rooms in 1987;  

Official opening of pitch and changing rooms in 1993;  

Building of sports hall and community complex in 1996;  

Extension of changing rooms in 2004;  

Addition of covered stands in 2006; 

Purchase of land and development of a second pitch and a training pitch in 2009; 

Development of Community Gym facilities in 2014 

Purchase of additional ground in and around main complex in 2015 & 2017 

Addition of a ball wall 
Success on the field of play has come to An Riocht on numerous occasions during this period including; 
Two All-Ireland Feile Na nOg Football titles in 1998 and 2001; 

Two Minor Football Championships in 2000 and 2001; 

One U21 Football Championship in 2005; 

One Senior Football League Division 1 title in 2007; 

Ulster Camogie Senior title in 1982; 

Adult County Camogie titles in 1982, 1983, 1984, 1990, 1994, 2008, 2011; 

Adult Hurling Championship titles in 1984 and 1988; 

Numerous Juvenile titles over 3 decades at national, provincial, county and divisional levels in all three codes. 
In addition players developed through the club include two All-Ireland Senior Football winners, seven All Ireland Minor Football winners, five All Ireland Minor Camogie winners and numerous Allstars.  
Off the field An Riocht has come a long way in a relatively short period with milestones in our development including; 
Establishing of accredited Youth Club in 1997; 

Launch of Club website in 2003;  

Achievement of Club Maith/Club Mark accreditation in 2013 

Irish News Club and Volunteer Award Winner in 2015 

Irish News Club and Volunteer Award Winner in 2018 

Fondúireacht Sheosaimh Mhic Dhonncha Award Winner 2017 & 2018 

Ulster GAA Ground of Year (Down) Award Winner 2018 

Ulster GAA Elevate Award Elite Governance 2019 
An Riocht has a strong cultural side with Irish language and dancing classes weekly and Scór and CCD featuring with national titles being secured in both. In addition the club has provided able administrators who have served at all levels of the GAA and in all sections.  
The An Riocht club serves both rural and urban communities and can list among its achievements the fact that it is strongly embedded in the community with strong links with local schools and all communities.