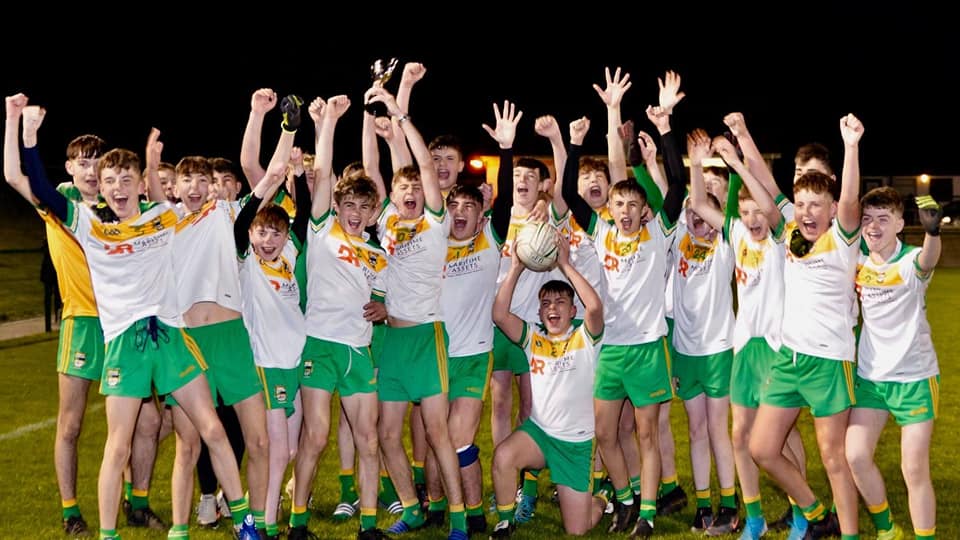 Here at An Ríocht we are a community run club with 2 adult teams, teams at u19 / u17 / u15 / u13 / p7 / p5 / p3 and a nursery program from pre1 to p3. We are located 2 miles outside Kilkeel in the Upper Mourne parish.  Through the dedication and vision of our volunteers we are widely recognised as having some of the best facilities in the county, if not the country. We have 2 match pitches, smaller training pitch, ball wall, match standard floodlighting, gym, large indoor hall, referee room, medical room, meeting room, covered terrace and seated stands.   
In our football coaching set-up, we have over 50 qualified coaches from Foundation Level to Level 2 and increasing each year. We pride ourselves on our nursery school program which was first started in the eighties at the back of St Colman's Primary School on Saturday mornings, coaching children the basics of Gaelic football.  Through the years Gaelic football began to change and although the basics with the ball never changed instead the focus shifted to improving the body. In 2006 Seamus Curran and other coaches evolved the nursery program to build in the fundamentals of what it takes to become an all-round Gaelic footballer. In this program it is about movement of the player, working on agility, hand to eye coordination and reaction and most of all to have fun.  We as a club also have a schools coaching program where coaches will go in and coach on set days.  This helps with player recruitment within our parish and to keep the school and club link healthy.  
We also have 4 fantastic memorial tournaments we hold each year at u8 / u10 / u12 / u14 level. These tournaments are some of the biggest in Ireland, catering up to 45 teams on any given day and including teams from all over Leinster and Ulster and on occasion overseas representation. 
Each year we hold coach education courses as a way to progress our coaches within the club structure, therefore providing a fantastic platform for our kids.  We would invite some of the best coaches in the country to coach the coaches, for example the late John Morrison, Philip Kerr etc. 
Each year we host a week-long Cul Camp, where we would see over a 100 kids from 6 years of age to 13 years playing and enjoying Gaelic games.  
Within our club structure we have a football committee which oversees the football end, and is made up of a football chair, vice chair, football secretary, coaching officer,  schools liaison officer along with all the coaches where we come together once a month to discuss football matters on what is the best way to improve the football structures within the club. 
An Riocht was formed in 1982 gaining promotion to the First Division that season but after reaching the Senior Football Championship Final in 1984 on the field progress slowed as the emphasis shifted to providing facilities.  
A restructuring at youth level begun in 1987 resulted in the clubs return to prominence during the nineties winning many juvenile titles culminating in All Ireland Feile Peil crowns in 1998 & 2001 and Minor Football Championships in 2000 & 2001.  The Down U21 FC title followed in 2005 before in October 2007 An Riocht became the first team from the Mournes to win the Down Senior Football League Division One under the managership of Peter McGrath. The following year 33 adult footballers emigrated to America and Australia. 
An Riocht have contributed players to Downs All Ireland senior successes in 1991 & 1994 and to the Minor victories in 1999 & 2005 and had 4 players on the 2010 senior team.  
COME JOIN US.